Wrecking Crew

Wrecking Crew circa 2017

Owner

Team Scream

Driver

Mike Thompson

Body Style

2002 Chevy S-10

Engine

Blown 540 Chevrolet Big Block

Transmission

Coan/Bewick Turbo 400 transmission

Tires

Allen Pezo Racing Wheels

Debut

2005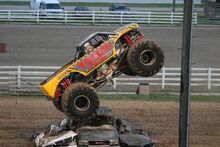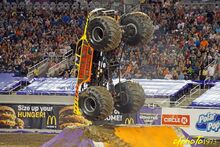 Wrecking Crew debuted in 2005. Before 2009, the truck was primarily an extra name for the team. In 2009, Steve Koehler, who had been crewing for his brother, Jim Koehler, began driving the truck. Wrecking Crew was run on the original Avenger chassis and ran it from 2009 through March 2017, when the 2008 version of Avenger became this truck. The original chassis was built in 1996.
History
In 2009,Wrecking Crew came onto the scene being driven by Steve Koehler, the crew chief for his brother, Jim. Chris Bergeron drove the truck at Monster Jam World Finals 11 as an encore on the Brutus chassis. Wrecking Crew has usually competed alongside Avenger, and, in 2014, Wrecking Crew was invited to the Young Guns Shootout. In 2015, Wrecking Crew is featured as one of the 16 trucks in the Fox Sports 1 Championship Series. John Killinger and Dave Radizerez both drove the truck in 2016 in place of Steve Koehler. Mike Thompson (Lumberjack 2016 driver) drove this truck in Monster Jam Stadium Tour #3 in 2017. At the World Finals the 2008 version of Avenger is converted to a newer version of Wrecking Crew. In June of 2017 the truck is replaced by Axe, but the Wrecking Crew body is still run on ocassion.
Trivia
Wrecking Crew's chassis is also used for General Tire. Steve has driven General Tire in 2009 and 2014. Wrecking Crew's body is used for radio station trucks, such as Detroit-based D-Molisher and Big 105.9.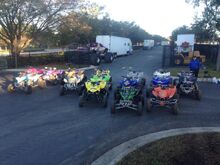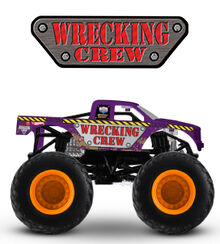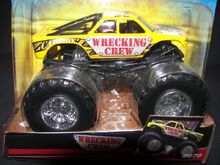 Ad blocker interference detected!
Wikia is a free-to-use site that makes money from advertising. We have a modified experience for viewers using ad blockers

Wikia is not accessible if you've made further modifications. Remove the custom ad blocker rule(s) and the page will load as expected.