Wrecking Crew

Wrecking Crew circa 2017

Owner

Team Scream

Driver

Mike Thompson

Body Style

2002 Chevy S-10

Engine

Blown 540 Chevrolet Big Block

Transmission

Coan/Bewick Turbo 400 transmission

Tires

Allen Pezo Racing Wheels

Debut

2005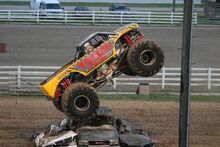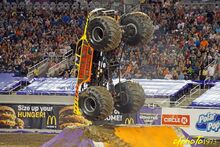 Wrecking Crew debuted in 2005. Before 2009, the truck was primarily an extra name for the team. Wrecking Crew was run on the original Avenger chassis and ran it from 2009 through March 2017, when the 2008 version of Avenger became this truck. The original chassis was built in 1996.
History
Trivia
Wrecking Crew's chassis is also used for General Tire. Steve has driven General Tire in 2009 and 2014. Wrecking Crew's body is used for radio station trucks, such as Detroit-based D-Molisher and Big 105.9.