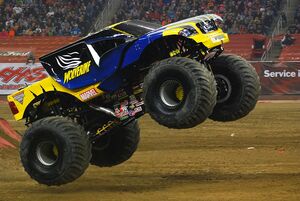 Wolverine was a monster truck owned by FELD Motorsports, created after an agreement with Marvel and FELD.
2001-2003
Wolverine was driven by Brian Barthel. In 2003, Brian won the Racing Champion before the FELD (then Clear Channel) / Marvel relationship ended.
2012
In late 2011, Wolverine was announced to return with Alex Blackwell behind the wheel of a similar-styled truck as the previous one, only it was a modern Ford F-150 instead of an old Chevrolet Silverado.
2013
In 2013 Dustin Brown took over as Blackwell returned to Captain's Curse.
2014
Aaron Basl drove Wolverine as Dustin Brown drove Iron Man. This would be Wolverine's last full season before the FELD / Marvel deal fell through, although it is possible that Wolverine will continue to tour, as Fox owns the rights to Wolverine. The same story could have gone for Spider-Man, but rights were recently transferred. Its last World Finals before its expiration was Monster Jam World Finals 15.
Recently in a interview With BJ Johnson Wolverine was seen in the background so is unknown if it might return or be resprayed.
Trivia
Wolverine had an identical shaped Hot Wheels truck known as Ninja Blade.
Gallery
Ad blocker interference detected!
Wikia is a free-to-use site that makes money from advertising. We have a modified experience for viewers using ad blockers

Wikia is not accessible if you've made further modifications. Remove the custom ad blocker rule(s) and the page will load as expected.