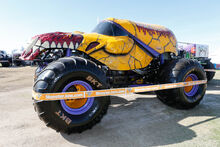 Wild Thang is a custom skull monster truck driven by Doug Charles out of Portridge, Indiana. Wild Thang was originally one of the first full 3D trucks and was dormant from its retirement in 2007 until Charles brought the truck back to performance in 2014, and still drives it today.
History
1996 - Wild Thang debuts being driven by Tony Farrell.
2001 - Wild Thang is sold to Paul Shafer after Tony joins PACE Motorsports.
2007 - Wild Thang performs for the last time until its return seven years later.
2014 - Doug Charles debuts a brand new Wild Thang at the World Finals.
2015 - Wild Thang V2 starts competing full time.
2015 - Original Wild Thang driver Tony Farrell tragically passes away after being fatally struck by a drunk driver at a concert.
2016 - Wild Thang officially returns to Monster Jam Competition and it celebrates the truck's 20th anniversary.
2017 - Doug and the truck competes in one of Monster Jam's Arena Tours.