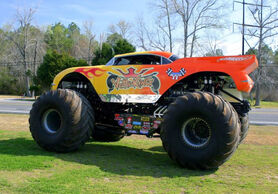 Vette King was a 1953 Chevy Corvette monster truck that ran from 2002-2006 that could be considered the successor of
Sting
, which was retired at the time of the truck's debut.
Although Brandon Harrington was the primary driver beginning in 2002 and later in 2004 he only drove to Indianapolis, IN but made it to qualifying before having mechanical problems and never got Vette fixed and Brandon Harrington was retired for his truck. In 2005 Vette King was for being the first truck Adam Anderson competed in before driving Taz. Ellis Edwards also drove the truck. The truck's mold is similar to Sting, Spitfire, Dragon's Breath, and Dragon. Much like how Chillin' Villin was cancelled and replaced by Nitro Machine, Vette King was also just another cancelled idea, however, Monster Jam brought it into reality by using it to replace the then retired Sting.
Similar to Ragin Steel, Vette King was mostly used as a fill-in truck.
Trivia
Despite its name, body style, and the fact that its predecessor truck was WCW sponsored, Vette King is actually not a sponsorship truck. There may be some confusion that the truck sponsors the Corvette, to which it actually does not.
The truck actually started out as a Hot Wheels concept fill-in, before being made into a truck.
The trucks body was once stolen after a show.
Gallery