USA-1

USA-1 circa 2017

Owner

Everett Jasmer (name), Roger Gauger (chassis)

Driver

Roger Gauger

Body Style

Chevy Silerado

Engine

572 cu in (9.4 l) Chevrolet V8

Transmission

Powerglide

Tires

66" Terra/BKT

Debut

1982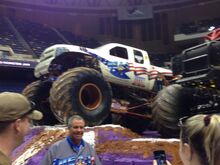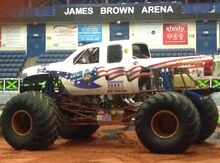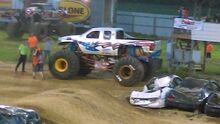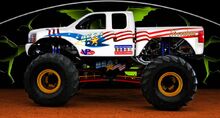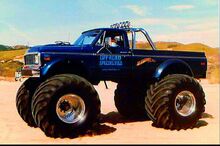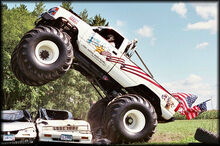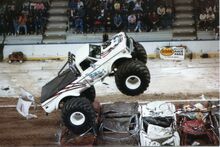 USA-1 is a Chevy Silverado monster truck out of Minnesota owned by
Everett Jasmer
and driven by
Roger Gauger
. This truck is famous for being one of the first monster trucks after
Bigfoot
. It is rumored Jasmer stopped competing with USA-1 because he did not want to sell out to larger promoters, such as FELD (yet the Gauger version occasionally competes in Monster Jam). USA-1 is featured in the game
Monster Truck Destruction
. The games features 4 different versions of the truck.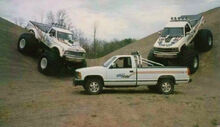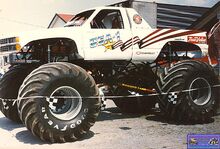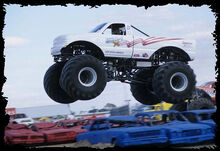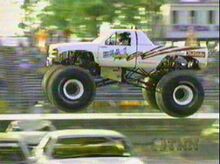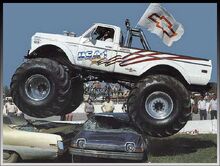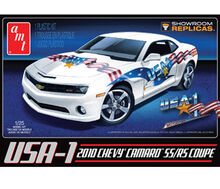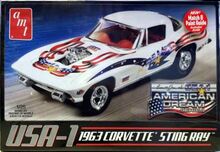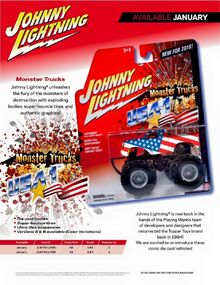 History
1982 - USA-1 debuts under Everett Jasmer.
1987 - Rod Litzau joins the team.
1988 - USA-1 wins the first TNT Championship.
1989 - Steve Wilke joins the team.
1991 - USA-1 retires.
2000 - Randy Brown campaigns USA-1 on Pure Adrenaline.
2016 - The truck competed at it's first Monster Jam event at the Richmond Coliseum in February. In December, the original truck makes a display during a Monster Jam event at US Bank Stadium, even though Roger's truck did not compete in the event.
2017 - USA-1 competes in its first Monster Jam Stadium event in Minneapolis.
2018 - Roger Gauger's father tragically passes away causing a few shows to be cancelled. The truck did not appear at the 2018 December Monster Jam show in Minneapolis for unknown reasons, likely because of the aforementioned death of Roger's father.