Tropical Thunder was a Chevy Silverado monster truck as part of Dan Rodoni's Patriot racing team since 2008. The truck has gone through many changes since its inception in 1991. In 2015, Dan Rodoni put the truck and its teammate, The Patriot, up for sale. In 2016 Tony Canedo buys the truck and converts it to Enforcer. Currently, the Australian Tropical Thunder is the only one running the name as of right now.
History
1990 - Wayne Smozanek buys Dave Wicezorik's Nite Life II truck
1991 - Wayne paints the truck and names it Tropical Thunder
1992 - Wayne builds a brand new Tropical Thunder. That same year, he's involved in a famous crash which took out part of a catch fence at a speedway.
1994 - Tropical Thunder I is sold to England and ran as Miami Thunder
1995 - Tropical Thunder II ends
2003 - Tropical Thunder III is sold to Australia, where it runs today.
2006 - Dan Rodoni buys Tropical Thunder name with Phil Foster (of Tom Meents fame) behind the wheel
2010 - Phil Foster retires
2011 - Andrew Peckham drives the truck full time
2011 - Tropical Thunder becomes M2D Camo Thunder
2013 - The truck debuts a new scheme and takes the old Patriot chassis
2014 - The original chassis was sold and it became Enforcer.
2015 - The name is shelved for the winter as Dan drives El Toro Loco and Andrew drives The Patriot
2016 - The truck became Hellraiser.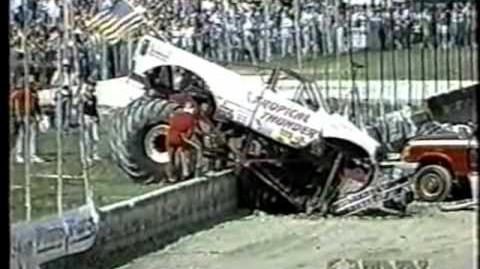 Gallery
Ad blocker interference detected!
Wikia is a free-to-use site that makes money from advertising. We have a modified experience for viewers using ad blockers

Wikia is not accessible if you've made further modifications. Remove the custom ad blocker rule(s) and the page will load as expected.