Traxxas E-Maxx

Traxxas E-Maxx competing in Derby, UK

Owner

FELD Motorsports

Driver

Linsey Weenk

Body Style

Ford F-150

Engine

540ci Merlin

Transmission

Coan 2-Speed

Tires

66" Terra

Debut

2011

Discontinuation

2011
The Traxxas E-Maxx was debuted in 2011 for the European Tour. It was driven by Linsey Weenk (Derby) and Frank Krmel (Madrid, Barcelona 2011). The truck returned for the 2012 European Tour under the name Traxxas T-Maxx. This truck has only competed in Europe.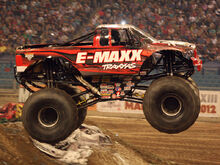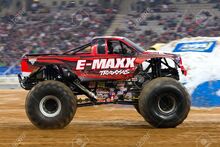 Ad blocker interference detected!
Wikia is a free-to-use site that makes money from advertising. We have a modified experience for viewers using ad blockers

Wikia is not accessible if you've made further modifications. Remove the custom ad blocker rule(s) and the page will load as expected.