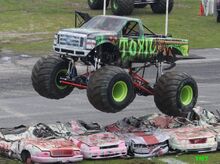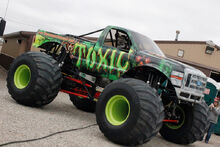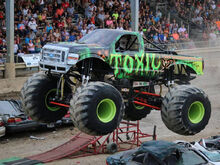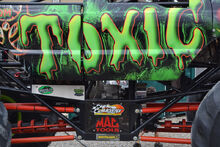 Unveiled in 2010 by Petri Motorsports out of Sardinia, New York, the Toxic Monster Truck has become a fan favorite up and down the east coast. The Petri brothers were no stranger to motorsports, but a trip to the 2009 Monster Jam World Finals got them talking about stepping it up a notch. They made a phone call to legendary monster truck driver & builder, Dan Patrick of Patrick Enterprises, and placed an order for a turn-key machine. Once the order was placed and the waiting began, it was time to come up with a theme. The brothers knew they wanted something that was original and that the fans would remember for a long time to come. After batting around a few ideas, a truck with one simple name was born… TOXIC. With a name like that the color and design opportunities were endless. The task of coming up with that design was given to Vinyl Images, Inc. in St. Louis, MO., who hit is out of the park!
For the next five years, Toxic traveled around the North East and into Canada delighting fans of all ages and securing its spot in the monster truck community. In November 2015, Gilbert Motorsports acquired the truck.
In 2017 the truck ran on one of the Monster Jam Arena Tours under Cory Snyder.  
For 2018, Jay Snyder will be driving the truck over the summer. The truck will make its Monster Truck Throwdown debut in summer.