Time Flys

Time Flys circa 2018

Owner

Living the Dream Racing

Driver

Kelvin Ramer

Body Style

1934 Ford Pickup

Engine

565ci

Transmission

Coan Powerglide

Tires

66" Terra/BKT

Debut

2009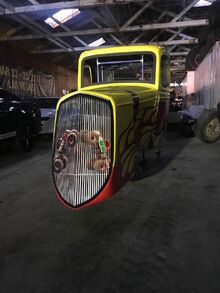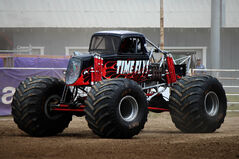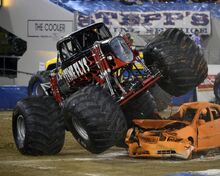 Time Flys is a 1934 Ford Pickup monster truck from Watsonville, California, driven by Kelvin Ramer. Ramer built the truck as his second piece after Natural High in 2008. Time Flys has a low stance and very slim cab design and is the teammate to Wild Flower, driven by Kelvin's daughter Rosalee Ramer.
History
2009 - Time Flys debuts. At World Finals 10, he debuted a new black scheme for the truck.
2014 - the truck's teammate, Wild Flower, makes its debut with Kelvin's daughter, Rosalee, Behind the wheel.
2015 - a new chassis debuts under Time Flys.
2017 - the truck competes in the West Coast Fox Sports 1 Series. Later that year, at the World Finals, Kelvin and the truck won the Save of the Year Award and the last Stadium Wheelie of the Year Award.
2018 - the truck competes in one of Monster Jam's Stadium Tours. A new yellow design debuts at the World Finals that runs to this day.