The Xtermigator

The Xtermigator

Owner

JR McNeal

Driver

JR McNeal

Body Style

Ram with custom front end

Engine

540 Central Florida Machine and Speed

Transmission

FTI 2-Speed Powerglide

Tires

66" Terra

Debuted

2014
The Xtermigator debuted in 2014 with driver JR McNeal as part of Razin Kane Monster Trucks. The truck is a sponser truck for Amalie Motor Oil, one of the sponsors on JR's team. The truck features an alligator design, and, in 2015, the truck features a custom front grille, which is designed to resemble an alligator's mouth. Presently, there are two Xtermigator trucks running the circuit, one with black gums and the other with red gums.
History
The Xtermigator was built in 2013, and would replace
Razin Kane
until 2015. The truck has been invited to two Young Guns Shootouts, however, driver JR has been invited to 4. In 2015, the truck features a custom alligator grille. For 2018 the truck recieved an all new chassis, with the original being converted into
Jack Brown's
Monster Mutt Rottweiler.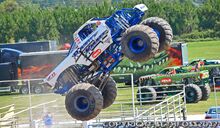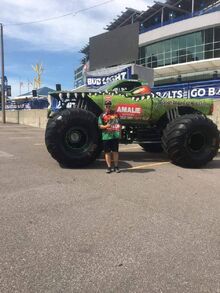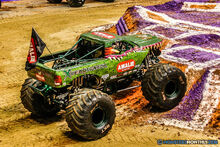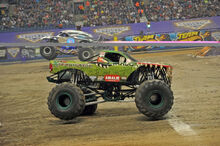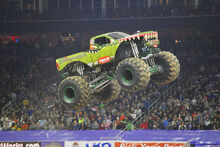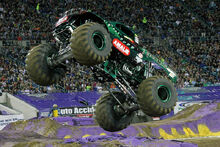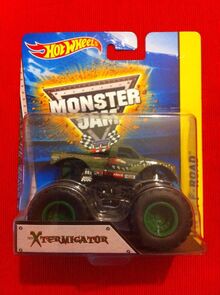 Trivia
The 2015 Hot Wheels toy was only released in Canada.
On its way to the World Finals in Las Vegas in 2016, the trailer carrying Razin Kane and The Xtermigator was accidentally left behind on the side of the highway in New Mexico after the team was given a lift by Team Jester's trailer truck. The Jester truck traveled back to New Mexico 800 miles round trip to retrieve it.
To accurately depict actual events regarding this event. Team RKMT had transmission trouble with their rig and broke down in Gallup, New Mexico with Razin Kane and Extermigator in the trailer. Team Jester had left about 24 hours later than the team RKMT trailer and while on the way to Sam Boyd Stadium picked up Team RKMT driver Buddy Tompkins in New Mexico and continued to Las Vegas. The Jester trailer along with Ice Cream Man that was riding in the trailer as well were dropped off at Sam Boyd Stadium. The Team Jester rig doubled back to New Mexico to pick up the Team RKMT trailer to bring it to Las Vegas while the RKMT rig was left behind to have the transmission repaired. Both teams and all 4 trucks made it to the stadium without missing any events.