The Mauler

The Mauler in Stockhom, Sweden

Owner

FELD (Truck), Alexander Gustafsson (Name)

Driver

Alx Danielsson

Body Style

Escalade

Engine

540ci Merlin

Transmission

Coan 2-Speed

Tires

66" Terra

Debuted

2014

Discontinued

2014
The Mauler (also known as "The Mauler Mobile") debuted as a one-time truck at the Friends Arena in Stockholm 2014. The truck sponsors celebrity Alexander Gustafsson, a Swedish UFC fighter. It was raced by Swedish NASCAR driver Alx Danielsson. The truck features Alexander on the side of the truck with his signature and Swedish flag decals behind him. The truck has only appeared once.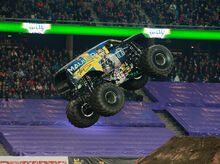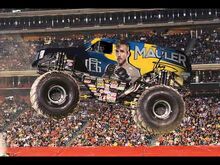 Trivia
Ad blocker interference detected!
Wikia is a free-to-use site that makes money from advertising. We have a modified experience for viewers using ad blockers

Wikia is not accessible if you've made further modifications. Remove the custom ad blocker rule(s) and the page will load as expected.