Terminator was a Chevy Silverado owned by Wildfire Motorsports from 2004-2007. This would be the final truck Calvin Carrington drove before his tragic passing in 2006. The truck was sold to Darren Cox, which it became Burnin' Money.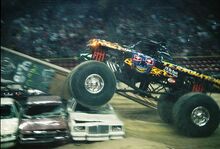 Ad blocker interference detected!
Wikia is a free-to-use site that makes money from advertising. We have a modified experience for viewers using ad blockers

Wikia is not accessible if you've made further modifications. Remove the custom ad blocker rule(s) and the page will load as expected.