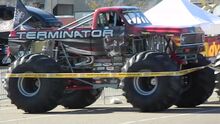 Terminator is a 1972 Chevy C10 monster truck driven by Gary Schott He was one of the first West Coast drivers, but retired in the 1990s. He then returned in 2009 with a brand new Terminator truck that is still on the circuit today. Early this year, 2016, professional off road racer, Jonathan Elkins, took over the drivers seat as Gary Schott looks into retirement from driving.
Gallery
Ad blocker interference detected!
Wikia is a free-to-use site that makes money from advertising. We have a modified experience for viewers using ad blockers

Wikia is not accessible if you've made further modifications. Remove the custom ad blocker rule(s) and the page will load as expected.