Teenage Mutant Ninja Turtles, or TMNT, was a custom body monster truck that ran from 2003-2012 with a multitude of drivers behind the wheel (as the truck was always driven on another's chassis). This truck was discontinued in 2012 when Viacom bought the license. The first chassis was originally Mr. Destruction's chassis.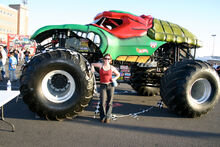 History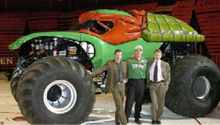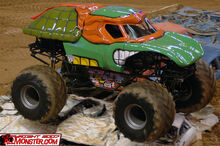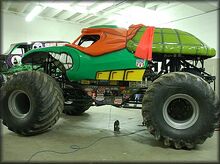 2003 - The truck debuts in Montreal with George Balhan behind the wheel.
2004 - It competes in its first World Finals with Paul Cohen driving.
2005 - Alex Blackwell takes the ride full time.
2006 - Brandon Harrington debuts an orange banded (Michelangelo) TMNT.
2006 & 2007 - Randy Brown drives TMNT at the World Finals.
2007 - Derek Evans, son of Dan Evans drives the truck in a few shows.
2008 - Aaron Basl starts driving TMNT.
2008 - Ryan Huffaker, son of Pablo Huffaker starts driving.
2008 Randy Brown drives the truck at the 2008 World Finals for an encore in between rounds of racing.
2009 - Pablo Huffaker competes with TMNT at the World Finals.
2012 - Joey Parnell takes Todd LeDuc's place in the Young Guns Shootout with TMNT.
2012 - The last full time driver of the truck is Joey Parnell.
Trivia
Despite only two variations of TMNT, a red banded (Raphael) and orange banded (Michelangelo) turtle truck, there have been toy versions of all four variations, red, orange, blue (Leonardo), and purple (Donatello), as monster trucks.
Much like Monster Mutt, the truck was notorious for having a small windshield, and as such, a small field of view when driving.
This truck actually never had a chassis. Instead, it ran on the chassis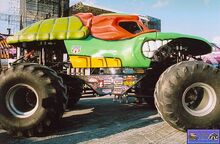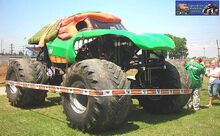 of other trucks, and was driven by that chassis driver on that occasion.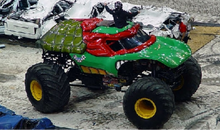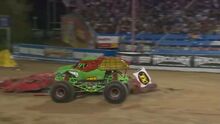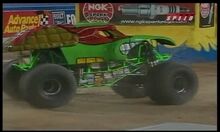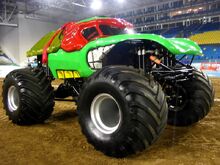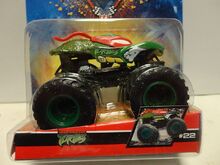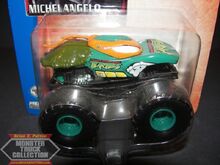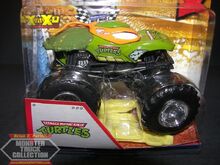 Ad blocker interference detected!
Wikia is a free-to-use site that makes money from advertising. We have a modified experience for viewers using ad blockers

Wikia is not accessible if you've made further modifications. Remove the custom ad blocker rule(s) and the page will load as expected.