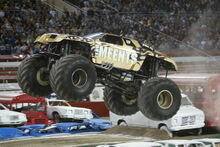 Team Meents was a futuristic SUV monster truck that ran during the 2002 Monster Jam season. Tom had originally planned to debut his successor truck, Maximum Destruction, for the 2002 season, immediately after the Goldberg deal expired, but the truck's debut was delayed until 2003, out of respect, due to the September 11th attacks in 2001. Team Meents was the result of these two events. The truck is identical to Goldberg except for slightly different flame decals, the name change and that the front says "ON A MISSION!" and the back of the truck features Tom's face instead of Bill Goldberg's. Team Meents swept the 2002 World Finals, and won many events in its single season long run. Tom's most famous run in Team Meents is when he double downed at the last Monster Jam event at the Houston Astrodome (then the Reliant Astrodome).
Trivia
Team Meents is the only truck to compete for only a single year at the Monster Jam World Finals and sweep that event.
Team Meents will be one of 6 flashback 2017 Hot Wheels Monster Jam toys, along with Hot Wheels, Avenger, Michigan Ice Monster, and 2 other unrevealed names.
Gallery
Ad blocker interference detected!
Wikia is a free-to-use site that makes money from advertising. We have a modified experience for viewers using ad blockers

Wikia is not accessible if you've made further modifications. Remove the custom ad blocker rule(s) and the page will load as expected.