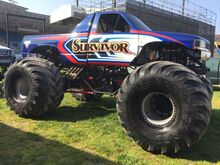 Survivor is a Chevy monster truck owned by Tony Canedo and originally Chuck Jordan of Forest Grove, Oregon. Survivor was created in 1992 then in 1995 he used the Chevy body he currently uses, and was converted to the Bi-Mart Advantage in 2000. It was changed back to Survivor in 2012, returned to competition in 2013. Plans were made to sell the truck to Jimmy Creten, but it fell through. In 2015 the truck was bought by Tony Canedo of Play'n For Keeps fame.
Gallery
Ad blocker interference detected!
Wikia is a free-to-use site that makes money from advertising. We have a modified experience for viewers using ad blockers

Wikia is not accessible if you've made further modifications. Remove the custom ad blocker rule(s) and the page will load as expected.