Superman

Superman Saudi Arabia circa 2017 on Soldier Fortune Black Ops chassis.

Owner

FELD Motorsports (Truck)
DC Comics (Name)

Driver

Tony Ochs

Body Style

Custom Ford F-150

Engine

540ci Merlin

Transmission

Coan 2-Speed

Tires

BKT

Debut

2005

Discontinuation

2017
Superman was a custom Ford monster truck driven by Tony Ochs. It was formerly driven by Chad Fortune (2005-2011) Sean Duhon (2012) and Joey Parnell (2013). The truck was a Monster Jam staple until 2014 when it was converted into Man of Steel. It made its return in 2017 in Saudi Arabia as part of an international tour team and is driven by Tony Ochs: right now, it's unknown if its return is only temporary, or if it will become a full-time truck once again, however, with the new Wonder Woman truck unveiled on just a few days later on March 23rd, that signals that Superman could be in for a true return.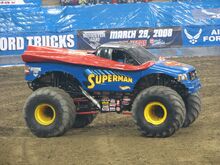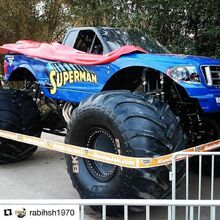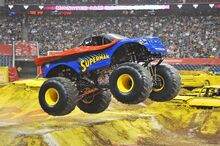 ​Trivia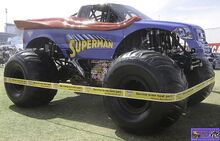 At World Finals XIV the Wolverine chassis would become a temporary Superman after the original truck's engine blew in qualifying. In freestyle the truck would blow one tire and break off another. It was driven by Jon Zimmer.