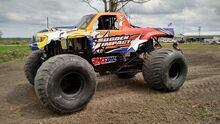 Sudden Impact is a monster truck out of Louisiana and is the flagship truck for Sudden Impact Racing. The truck is best known for being created and driven by John Seasock for many years until Brandon Lagarde purchased the team. The truck was also a ride for Jon Zimmer from 2008-2009.
History
1993 - Sudden Impact is created.
1995 - Sudden Impact II is created with the iconic blue scheme.
1999 - Sudden Impact III is created with the old Liquidator chassis.
2002 - Sudden Impact debuts a new body and paint scheme, with a white jagged line across each side of the truck.
2004 - Sudden Impact gets a brand new scheme.
2005 - John Seasock sells the team to Brandon LaGarde as he goes to work for Monster Jam.
2006 - Another new scheme is unveiled for Sudden Impact.
2008 - The truck is driven by Lyle Hancock for a few shows.
2012 - After being used on and off from the team, the current Sudden Impact scheme is unveiled.
2015 - A new offroad/RC body debuts.
Gallery
Ad blocker interference detected!
Wikia is a free-to-use site that makes money from advertising. We have a modified experience for viewers using ad blockers

Wikia is not accessible if you've made further modifications. Remove the custom ad blocker rule(s) and the page will load as expected.