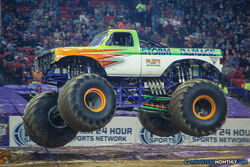 Storm Damage is a Chevy Silverado Monster Truck driven by
Tim Mente
out of Bethesda, Maryland. Mente has been an East Coast staple for almost 10 years, with Storm Damage going through many iterations. It tours with its teammate truck
Hurricane Force
.
History
2006 - Storm Damage debuts.
2010 - A new chassis and wrap for Storm Damage debuts.
2012 - A new scheme and chassis from J&B Chassis debut.
2015 - Storm Damage runs a "Pighole" sponsored body.
2016 - Storm Damage gets a new body and paint scheme.
Gallery
Ad blocker interference detected!
Wikia is a free-to-use site that makes money from advertising. We have a modified experience for viewers using ad blockers

Wikia is not accessible if you've made further modifications. Remove the custom ad blocker rule(s) and the page will load as expected.