Stinger Unleashed

Circa 2018

Owner

Zane Rettew

Driver

Zane Rettew

Body Style

Ford Raptor with custom rear end

Engine

526CI BBC

Transmission

2spd Abruzzi Powerglide

Tires

66" Firestone / BKT

Debuted

2012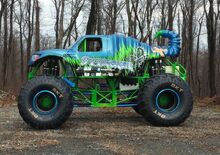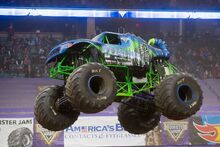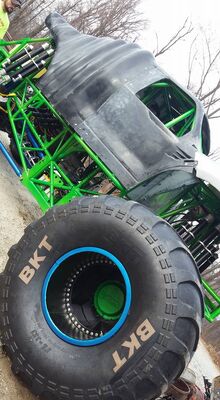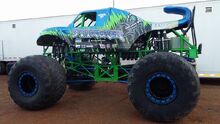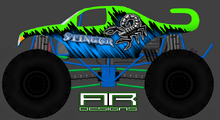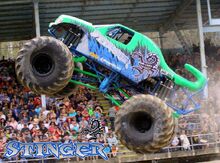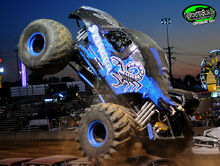 Stinger debuted in 2011 with driver and owner Zane Rettew, who also owns Rettew Motorsports. The truck competes mainly in Monster Jam. The truck's body is that of a Ford Raptor. Previously, the rear end made to resemble a scorpion.
History
In the summer of 2011 the first Stinger truck is built.
2012- The truck competes in it's first full season, mainly with the Toughest Monster Truck Tour.
2013- Zane and the truck join the Monster X Tour for their fist full season on the tour.
2014- The truck makes it's Monster Jam debut in Trenton, NJ with an all new chassis.
2015- The truck competes in it's first full year of Monster Jam.
2016- The team debuts a brand new chassis and body nicknamed Stinger 2k3. They would win multiple wheelie and freestyle competitons on the Monster Jam circuit, over the likes of Pablo Huffaker and Greg Wichenbach.
2017- The truck runs arena tour #6 along side it's new team mate Master of Disaster. Zane and the truck are invited to compete in the Double Down Showdown at the World Finals.
2018- A brand new Stinger debuts on an all new Patrick Chassis, under the name Stinger Unleashed. It runs in the Monster Jam Arena Tour, and rolls during it's first ever freestyle.  
Trivia
The 2012 chassis was made into Boogey Van before being sold to Mike Harper of Harper Motorsports. It was again put up for sale in 2017.
In 2014, the truck was also named Stinger 2k14.
The 2014 chassis was modified and converted into Master of Disaster.
The 2016 tail plug mold was custom made by Trey Myers.
The 2016 version is currently dismantled for a future rebuild.
Every year since 2013 Zane and the truck have competed at one of their hometown shows in Lancaster, PA. The show being at a tractor pull venue only minutes from their shop, named Buck Motorsports Park. They have won a total of five freestyles there, even rolling in 2017.