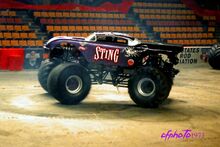 Sting was a 1957 Corvette monster truck that ran from 2000-2001 driven by Sky Hartley and Tony Farrell. Sting debuted in Orlando in the year 2000 by Sky Hartley. The truck was one of the Monster Jam WCW trucks, and was also one of the original four die cast trucks from 2000. Sting competed in both of the first two World Finals with considerable success. It also ran a special cheetah body which later became Spider-Man (was supposed to be the cancelled Bret "Hitman" Hart). The truck was also partially famous after an incident at the Monster Jam World Finals 2, where Sting was placed in a corner of the stadium after it's freestyle. Ragin Steel would then come out, hit a few obstacles, then proceeded to roll over to Sting, then climbed, and crushed, the parked Sting.
The truck was retired after the 2001 season. A loosely related truck, often times coined as Sting's successor, debuted in 2002; the truck was Vette King.
Gallery
Ad blocker interference detected!
Wikia is a free-to-use site that makes money from advertising. We have a modified experience for viewers using ad blockers

Wikia is not accessible if you've made further modifications. Remove the custom ad blocker rule(s) and the page will load as expected.