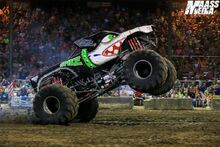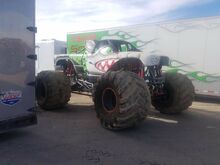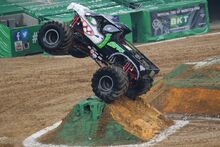 Spike Unleashed (or simply Spike) is a custom Chevy monster truck driven by Cory Rummell, and was a team truck for Team Scream Racing. The truck was identical in base design to Brutus and Mega Bite, with the chassis being the original Brutus chassis.
History
2005 - The truck debuts in Indianapolis being driven by Chris Bergeron
2007 - Spike begins competing full time driven by Rich Hilgendorf
2011 - A breast cancer awareness Spike debuts
2013 - Spike is replaced by Mega Bite
2014 - Cory Rummell takes over as full time driver for Spike Unleashed
2016 - A main running Spike Unleashed is replaced by Rage.
2017- Spike Unleashed is run at summer events, not as a main body.
Gallery
Ad blocker interference detected!
Wikia is a free-to-use site that makes money from advertising. We have a modified experience for viewers using ad blockers

Wikia is not accessible if you've made further modifications. Remove the custom ad blocker rule(s) and the page will load as expected.