Son-uva Digger

Son-uva Digger circa 2018

Owner

FELD Motorsports

Driver

Ryan Anderson

Body Style

1950's Willy's Body Style

Engine

540ci Merlin

Transmission

Coan 2-Speed

Tires

66" Terra

Debuted

2011
Son-uva Digger debuted in 2011 and is owned by FELD Motorsports and is driven by
Ryan Anderson
, the second son to
Dennis Anderson
, as the name implies. The truck's body style is based off of Ryan's grandfather's car. Son-uva Digger was originally a mud truck, and was going to be Adam Anderson's new truck. However,
Adam Anderson
would go on to drive
Taz
and then
Grave Digger the Legend
in 2011. Ryan was supposed to debut Son-uva Digger in 2011, but, due to an injury, Ryan couldn't debut the truck until World Finals 12 in an encore performance. Ryan competed with the truck for the first time in Halifax, Nova Scotia in June of 2011, and it's first stadium in July of that year in Baltimore, MD. Ryan is known for his winning streaks, and he is one of the winning-est drivers on the Monster Jam circuit, although he had not won a World Championship until 2017 when he won the Racing Championship. Ryan has been invited to every World Finals since 2012.
History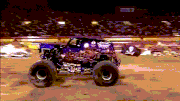 2011 - Son-uva Digger debuts in an encore performance at World Finals 12.
2012 - Ryan suffers another injury in an encore performance at World Finals 13 and is not able to compete during the summer of 2012.
2015 - Ryan finishes 2nd in both racing and freestyle in Monster Jam World Finals 16.
2016 - The truck gets an all new chassis. Carl Van Horn drove the truck in Glendale, AZ. Ryan runs the original truck in Europe for the summer and fall.
2017 - Ryan wins the Stadium 3 tour and gets the first spot to Monster Jam World Finals 18. Ryan also wins the Racing Championship at the Monster Jam World Finals 18 over Grave Digger & Tyler Menninga in a very close race. Ryan would also double down in Syracuse even performing a long moonwalk in Freestyle
2018 - Ryan wins his second World Finals championship, this time being freestyle, at the Monster Jam World Finals 19, winning with a score of 9.182. One month later he performed only the third Barrel Roll in Monster Truck History in Santa Clara.
World Finals Appearances
2011 - Ryan Anderson (encore performance only)
2012 - Ryan Anderson
2013 - Ryan Anderson
2014 - Ryan Anderson
2015 - Ryan Anderson
2016 - Ryan Anderson
2017 - Ryan Anderson (won racing)
2018 - Ryan Anderson (won freestyle)
Trivia
Son-uva Digger is one of 4 trucks owned by FELD, that was sold to them, rather than created by them (The other 3 being Bulldozer, Carolina Crusher, and Grave Digger).
Gallery