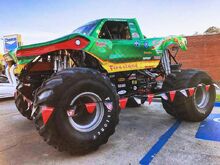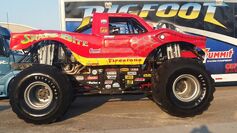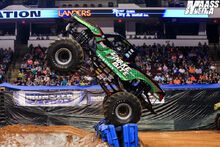 Snake Bite is a custom body monster truck from Bigfoot 4X4, and is known as the first 3D body monster truck making its debut in 1991 with the driver being "Colt Cobra". Since then a multitude of drivers have driven this machine and have collected plenty of wins under this truck. In 2017, Vinny Venom drove his truck to the 2017 Toughest Monster Truck. Snake Bite is a playable truck in Monster Truck Madness, Monster Truck Madness 2, Monster Truck Madness 64, and Monster Truck Destruction. The truck is currently being driven by Kris Kopperhead on the Bigfoot 18 chassis, and by Andy Anoconda on the Bigfoot 15 chassis.
Incidents
1991 Shed Crash
Snake Bite was involved in a famous crash in 1991 in Union Grove Wisconsin, where the truck, being driven by Colt Cobra and racing against Fred Shafer in Bear Foot in Round 1, jumped the "hydra barriers" (plastic units filled with water: water could even be seen splashing out during the collision) and crashed into a concessions stand shed in a nearby parking lot. The shed was completely destroyed, but thankfully no people were inside it at the time of the crash, so nobody was injured. On the other hand, a 2,000lbs industrial freezer, which was inside the shed, was destroyed in the crash, left out in full view partially crushed by the front tires from the truck's resting position, where the truck was left throughout the rest of the show.
​Wildwood 2016 Incident
During the semi-final round of the Saturday night event in Wildwood NJ in 2016 the truck suffered a devastating wreck while racing against Red Solo Truck. As the two trucks came across the finish jump they collided and both went tumbling down the truck[1]. Vinny jumped out of the truck to check on Brandon Budd, they were both okay, with Red Solo Truck even returning for the finals. The chassis suffered severe damage and had to be sent to Concussion Motorsports to be rebuilt. The Snake Bite body returned to the Bigfoot 15 chassis (which it ran on during first quarter) for the remainder of the year.
Trivia
Some of the truck's drivers have had names baring similar resemblance to the truck. They include "Colt Cobra" (actually Gene Patterson) Ricky Rattler (Dan Runte) , Petey Python, Vinny Venom, Andy Anoconda and Kris Kopperhead.
Gallery
References