Slaine (or Slaine the Warped One) is a Jeep Wrangler monster ride truck owned by Scott May since 2004 and was formerly Wrecker in the United States. Rebuilt as slaine by dave Crosland. It is unique for being the only ride truck to compete in main monster truck competitions. Without fans onboard.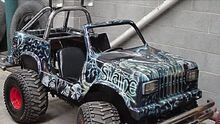 Ad blocker interference detected!
Wikia is a free-to-use site that makes money from advertising. We have a modified experience for viewers using ad blockers

Wikia is not accessible if you've made further modifications. Remove the custom ad blocker rule(s) and the page will load as expected.