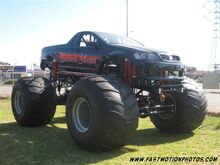 Shattered Silence is a Holden Ute monster truck owned by Super Monster Trucks out of New Zealand since 2008, and is their newest truck and more conventional of the newer style of trucks. Shattered Silence's chassis was one of two trucks temporarily used for The Bigfoot in the 2015 George Miller action film, Mad Max: Fury Road, with the other being Stress Factor.
Ad blocker interference detected!
Wikia is a free-to-use site that makes money from advertising. We have a modified experience for viewers using ad blockers

Wikia is not accessible if you've made further modifications. Remove the custom ad blocker rule(s) and the page will load as expected.