Scorpion

Scorpion circa 2012

Owner

Kyle Carrington

Driver

Kyle Carrington

Body

2010 Ford Superduty

Engine

509 c.i. Chevrolet

Transmission

Turbo 400

Tires

66″ Goodyear Terra Tires

Debuted

2012
Scorpion debuted in 2012 with the driver being Kyle Carrington, son of famous Wildfire monster truck driver Calvin Carrington. Scorpion has gone through a couple paint jobs since its debut. Scorpion mainly does exhibitions and Monster X tour with its teammate, Project X driven by Rob French. Scorpion is one of the trucks that makes up Boston, Georgia-based Wildfire Motorsports. Rarely does the team run on the Monster Jam circuit. The truck was sold to Mike Dufrene in 2015.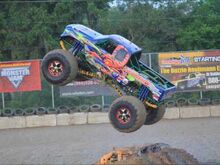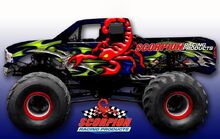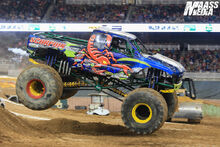 Ad blocker interference detected!
Wikia is a free-to-use site that makes money from advertising. We have a modified experience for viewers using ad blockers

Wikia is not accessible if you've made further modifications. Remove the custom ad blocker rule(s) and the page will load as expected.