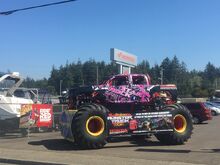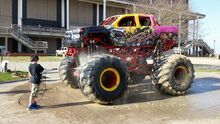 Rockstar is a Chevy Colorado monster truck driven by Bill Payne out of Bellview, Washington. Payne is known for racing the Monster X Tour, and for his wild driving style. As of 2012, with his second truck, his wife Lorna rides along with him in the truck. In 2014 a second Rockstar, sponsored by Safety-Kleen, was created.
Gallery
Ad blocker interference detected!
Wikia is a free-to-use site that makes money from advertising. We have a modified experience for viewers using ad blockers

Wikia is not accessible if you've made further modifications. Remove the custom ad blocker rule(s) and the page will load as expected.