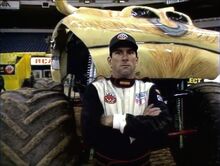 Rob Knell is a driver on the Monster Jam circuit. He is the cousin of Tom Meents. He has driven nWo, Bulldozer, and Hot Wheels.
History
Rob Knell debuted in 2000 as the driver of Bulldozer for Team Meents. Then, at the New Orleans Superdome, he won racing as the mystery driver of the New World Order (nWo) truck. He also got one of the top three scores for his freestyle performance at the World Finals that year. It wasn't until an article on USHRA.com was he revealed as the driver of the NWO truck.
Following the 2000 season, the nWo truck was discontinued and he went back to driving Bulldozer.
In 2004, for the encore show at the World Finals the crowd watched tandem freestyle runs by first two Built Ford Tough Blue Thunder monster trucks, then two Maximum Destruction monster trucks, and finally, two Grave Digger monster trucks; however, despite bringing a second Bulldozer, he was missed in the encore, most likely due to the fact that the first Bulldozer was too heavily damaged to join.
During the 2004 summer season, he was injured and sat out most of 2005. He eventually returned as the driver of Hot Wheels. He has not driven since the 2007 season because of his injury.
Ad blocker interference detected!
Wikia is a free-to-use site that makes money from advertising. We have a modified experience for viewers using ad blockers

Wikia is not accessible if you've made further modifications. Remove the custom ad blocker rule(s) and the page will load as expected.