Reckless Drivin

Circa 2016

Owner

Jeremy Hosman

Driver

Jeremy Hosman

Body Style

Chevy Silverado

Engine

481 Alcohol-Injected Chevy Big Block

Transmission

Turbo 400

Tires

66" Terra Tires

Debuted

2013
Reckless Drivin is owned and driven by Jeremy Hosman and mainly competes in Monster Truck Throwdown.
History
Reckless Drivin was made in 2013 with the chassis being from Perrin Motorsports, a sponsor of Hosman's truck. Hosman has mainly kept his truck with Monster Truck Throwdown.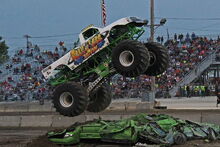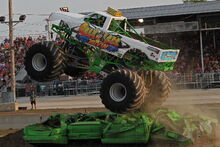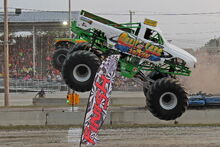 Ad blocker interference detected!
Wikia is a free-to-use site that makes money from advertising. We have a modified experience for viewers using ad blockers

Wikia is not accessible if you've made further modifications. Remove the custom ad blocker rule(s) and the page will load as expected.