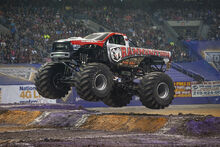 Rammunition is a Dodge Ram monster truck driven by Mat Dishman, and is the team truck to Raminator since 2002. Mat's older brother, Geremie Dishman, won Rammunition its first and only championship in 2006.
History
2002 - Rammunition debuts as part of the ProMT series.
2006 - Rammunition debuts a new scheme.
2006 - Geremie Dishman wins the Family Event Monster Truck Thunder Drags championship.
2010 - Geremie retires, giving his brother Mat the full time ride.
2010 - Rammunition debuts a new camo themed scheme.
2014 - Rammunition debuts a new Red 3D body scheme.
Gallery
Ad blocker interference detected!
Wikia is a free-to-use site that makes money from advertising. We have a modified experience for viewers using ad blockers

Wikia is not accessible if you've made further modifications. Remove the custom ad blocker rule(s) and the page will load as expected.