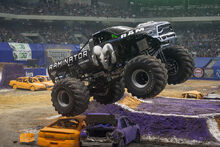 Raminator is a Dodge Ram truck driven by Mark Hall since 2002. The truck has accumulated a multitude of championships over its career and even set a world record in 2014.
History
2002 - The truck debuts in the Pontiac Silverdome.
2002 - Mark wins the Family Events Monster Thunder Drag Series, a series in which he would go on to win 11 championships.
2004 - Raminator R/T debuts.
2005 - Raminator sweeps the Monster Nationals championship.
2006 - Raminator debuts a brand new scheme.
2009 - The Hall Bros sign a partnership with Hotsy Pressure Washers and Hotsy Raminator debuts.
2010 - Raminator debuts an electronic themed scheme.
2014 - Raminator debuts a new black scheme with 3D Rams.
2014 - Mark Hall sets a new speed record in a monster truck at 99.1 MPH.
Gallery
Ad blocker interference detected!
Wikia is a free-to-use site that makes money from advertising. We have a modified experience for viewers using ad blockers

Wikia is not accessible if you've made further modifications. Remove the custom ad blocker rule(s) and the page will load as expected.