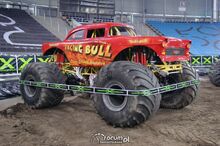 Raging Bull is a Chevrolet Nomad truck driven by Vesa Kivimaki out of Finland since 2008. The truck is a PEI built chassis and has competed at multiple Monster Jam events and Monster X Tour events in his home country.
2015 incident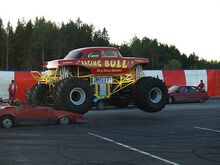 In August of 2015 at an event in Finland, Raging Bull was doing an exhibition event when he jumped over a large truck, the landing which broke a wheel and due to a lack of proper safety barriers rolled into the crowd injuring nine people. It was a non fatal event.
Trivia
Although very similar in appearance, Raging Bull is not a clone of Avenger. While Raging Bull is a Nomad, Avenger is a Bel Air. However, both body types are Chevrolets.
Ad blocker interference detected!
Wikia is a free-to-use site that makes money from advertising. We have a modified experience for viewers using ad blockers

Wikia is not accessible if you've made further modifications. Remove the custom ad blocker rule(s) and the page will load as expected.