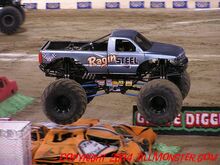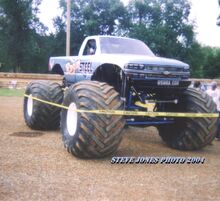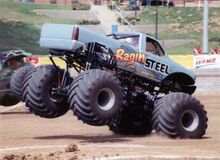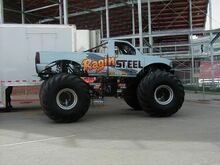 Ragin Steel was a Chevy Silverado monster truck that ran from 2001-2004 under multiple drivers, several Grave Digger drivers including Gary Porter and Chad Tingler but the truck is best known for running as a team mate to Scott Hartsock with Steve Reynolds behind the wheel. The truck was also run on the Little Tiger chassis for a few shows in 2004. The truck was mainly used as a fill-in truck, which would be used to add competitors to a bracket, much like Vette King.
The truck is famous for filling in for Blacksmith during freestyle at the Monster Jam World Finals 2, after Blacksmith crashed onto the wall protection. Ragin Steel would only freestyle with a few hits, before popping both right tires, then literally climbing up, and crushing a parked Sting.
In 2004, Chad Tingler, who would drive Grave Digger from 2006-2016, drove the truck in his debut season and was partnered with Brian Barthel and Little Tiger.
The Truck had it's final run at the Metrodome in Minneapolis, MN on December 4, 2004. Troy Dubois was the Driver at the trucks final event. The truck competed in Racing, but not in Freestyle.