Ragin Raisin is a Chevy monster truck driven by Randy Hoegh out of California. The truck was built brand new based on Mike Welch's designs and made its debut in 2014. Since then the truck has toured along the West Coast and even Japan.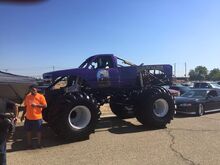 Ad blocker interference detected!
Wikia is a free-to-use site that makes money from advertising. We have a modified experience for viewers using ad blockers

Wikia is not accessible if you've made further modifications. Remove the custom ad blocker rule(s) and the page will load as expected.