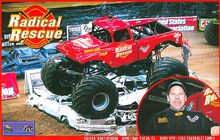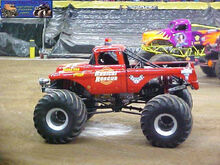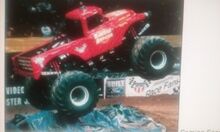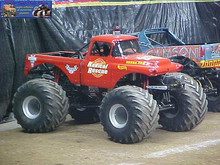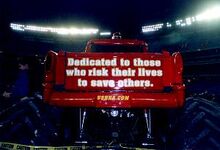 Radical Rescue was a 1955 Chevrolet Cameo monster truck driven by Ronnie Cochran during the 2002-2003 seasons. The truck was a tribute to those who died during the September 11th Attacks.
Trivia
The chassis was formerly Grave Digger 10.
The truck was planned to be Beware of the Junkyard Dog, but the name was changed after 9/11. The Junkyard Dog idea was put on the body that would've been used for Hulk had the Marvel sponsorship not fallen through, and Monster Mutt was created.
The body style would later be used on the 2013 version of El Diablo.
Radical Rescue is one of two trucks that were created as a direct result of 9/11. The other was Team Meents, which debuted in Maximum Destruction's place in 2002, since Tom Meents postponed its debut until 2003 out of respect.