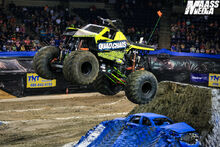 Quad Chaos is a custom ATV monster truck driven by Aaron Cain out of Attica, Indiana. The truck was formerly Bad Habit of Joe Sylvester until DCT Powersports bought it in 2014. The truck is themed after the Badlands Off Road Park (along with Park Patrol, the former Screamin' Demon) and is now a full time competitor for the Toughest Monster Truck Tour. It was redesigned for 2016.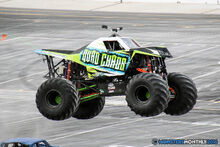 Ad blocker interference detected!
Wikia is a free-to-use site that makes money from advertising. We have a modified experience for viewers using ad blockers

Wikia is not accessible if you've made further modifications. Remove the custom ad blocker rule(s) and the page will load as expected.