Prowler is a custom Chevy monster truck that is part of Allen Pezo's Predator racing. The truck debuted in 1998 and has been a staple of Monster Jam since.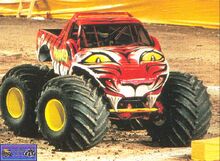 History
1998- The truck debuts being driven by Allen's brother Dave Pezo.
2000- Prowler competes in Monster Jam World Finals 1.
2001- Larry Jarzel takes over as driver of Prowler.
2001- Prowler is featured in Monster Jam: Maximum Destruction.
2003- Prowler is featured in Monster 4X4: Masters of Metal.
2006- Allen Pezo drives Prowler for a single event in Atlanta.
2008- Lenny Kuilder takes over as the driver.
2009- Prowler debuts a brand new scheme.
2016- Prowler is run as Predator in Guatemala, with the ProMT body.