Project X

Project X competing in Monster X

Owner

Rob French

Driver

Rob French

Body Style

2004 Chevrolet Truckvette

Engine

509 c.i. Chevrolet

Transmission

Turbo 400

Tires

66″ Goodyear Terra Tires

Debuted

Circa 2012
Project X, occasionally sponsored by Formula 1 noni, was driven by Rob French and part of Boston, Georgia-based Wildfire Motorsports. The truck has also ran as Iron Horse and Grave Robber. Project X mainly does exhibitions and Monster X tour. Project X is teammates with the Scorpion monster truck. Rarely has the team ran on the Monster Jam circuit. It was made as a sponsor for Monster X.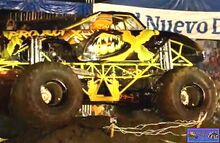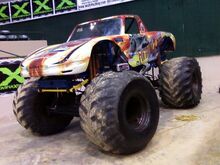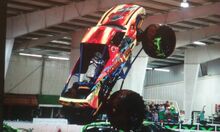 Ad blocker interference detected!
Wikia is a free-to-use site that makes money from advertising. We have a modified experience for viewers using ad blockers

Wikia is not accessible if you've made further modifications. Remove the custom ad blocker rule(s) and the page will load as expected.