Power Forward was a Ford monster truck that was sponsored by Karl Malone the NBA Hall of Famer and ran from 2002-2005.
History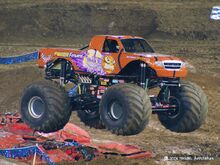 2001 - The truck is conceived as The Mailman but the name Power Forward is chosen. It debuts on Ragin Steel.
2002 - Power Forward debuts being driven by Chad Fortune.
2004 - A new scheme debuts.
2004 - Carl Van Horn takes over the ride mid season even at Monster Jam World Finals 5.
2005 - Frank Krmel is the last full time driver of the truck. The truck gets a new Ford Ranger body as well.