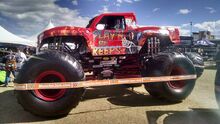 Play'n For Keeps is a Chevy monster truck driven by Tony Canedo out of California. For 20 years the truck was driven by Michigan's Jesse Birgy until Tony bought it when Jesse decided to retire in late 2006 (he unfortunately would pass away two years later in 2008). The truck has gone through many paint schemes but has stayed as a staple of USHRA events and often performs at Monster Jam, as well as various smaller events.
Gallery
Ad blocker interference detected!
Wikia is a free-to-use site that makes money from advertising. We have a modified experience for viewers using ad blockers

Wikia is not accessible if you've made further modifications. Remove the custom ad blocker rule(s) and the page will load as expected.