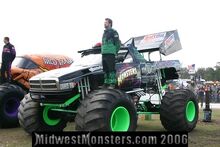 Paul Shafer is a famous monster truck owner and driver most notable for driving and creating the Monster Patrol truck.
Monster Patrol
In 1993, after four years of driving the mud racer, Mud Patrol, Paul Shafer went on to monster trucks. He put Tom Meents (Who would later drive Monster Patrol.) in Mud Patrol. 
Paul Shafer and Tom Meents are the best known drivers of the monster truck, but they aren't the only ones.
And now in 2014, it is brought back the Monster Patrol and now it is with Michael Phelps.
Bought from Fred Shafer (Who has no relation to Paul Shafer.), Bear Foot is the most famous truck owned by Paul Shafer. He usually doesn't drive it. Instead, drivers like Todd Frolik and James Tiuge II drive it.
Other owned trucks
Paul Shafer owns several trucks. Some of them (Like Wild Thang (Tony Farrell) and Carolina Crusher (Gary Porter, although Shafer has recently sold it to FELD).) are bought, while others (Like Kid Rock.) are built by him.
Ad blocker interference detected!
Wikia is a free-to-use site that makes money from advertising. We have a modified experience for viewers using ad blockers

Wikia is not accessible if you've made further modifications. Remove the custom ad blocker rule(s) and the page will load as expected.