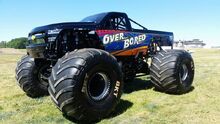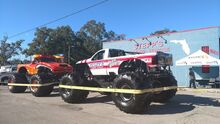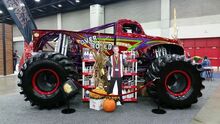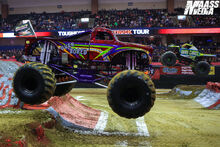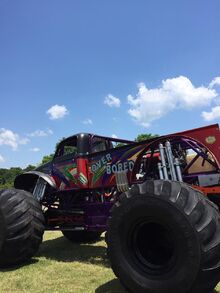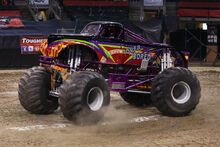 Over Bored is a Chevy monster truck owned and driven by
Jamey Garner
out of Fortville, Indiana. Garner is known for his towing company Garner Towing, and also for his extravagant paint schemes painting not only Over Bored but also several of the World Finals
Avenger
bodies and the 2011-2013
Brutus
.
History
2013- Garner buys High Maintenance from Jocelyn and Jim Perrin and converts the truck to Over Bored.
2014- Garner competes in his first full season on the Toughest Monster Truck Tour.
2014- Over Bored and Jamey Garner win the Monster Truck Throwdown Championship.
2015- Over Bored makes it's Monster Jam debut in September.
July 2016- A brand new Over Bored was debuted in Mt. Pleasant, Michigan. It features an all new look and an all new Paul Cohen chassis, was driven by Travis and Tyler Groth for it's first show. The original truck is converted to Wild Side (Garner).
2017- The truck competed in a full stadium tour for Monster Jam,
Ad blocker interference detected!
Wikia is a free-to-use site that makes money from advertising. We have a modified experience for viewers using ad blockers

Wikia is not accessible if you've made further modifications. Remove the custom ad blocker rule(s) and the page will load as expected.