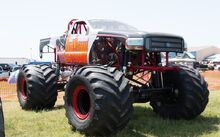 Outlaw is a Ford monster truck driven by
Michael Harper
since 2011 as a throwback to the old
Jersey Outlaw
truck from the 1980s. The truck is a Willman built truck, and is based out of Texas. The truck has become well known for Michael's wild driving style, with many people wanting Outlaw to take part of the Monster Jam World Finals.
Gallery
Ad blocker interference detected!
Wikia is a free-to-use site that makes money from advertising. We have a modified experience for viewers using ad blockers

Wikia is not accessible if you've made further modifications. Remove the custom ad blocker rule(s) and the page will load as expected.