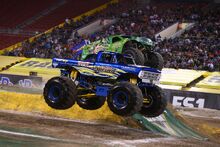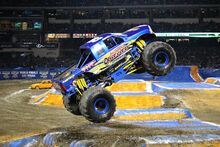 Obsessed is a Ford monster truck driven by Eric Swanson out of Menifee, California as the team truck to Obsession driven by Eric's father, Rick Swanson. Rick Swanson, Jeff Jones, and Jim Lehnertz have all driven Obsessed in Monster Jam before Eric began driving it in Monster Jam in 2014.
History
2009 - Obsessed debuts with Rick Swanson driving the truck on the Monster Jam tour and Eric Swanson driving the truck in other non-FELD shows.
2010 - Big Dummy runs a "LINE-X Obsessed" body at SEMA 2010.
2012 - Jim Lehnertz drives Obsessed for a short period of time.
2014 - Eric begins to drive Obsessed in Monster Jam. 
2014 - Obsessed gets a new off road body.
2017- Obsessed competes in the Double Down Showdown with a new body style.
Gallery
Ad blocker interference detected!
Wikia is a free-to-use site that makes money from advertising. We have a modified experience for viewers using ad blockers

Wikia is not accessible if you've made further modifications. Remove the custom ad blocker rule(s) and the page will load as expected.