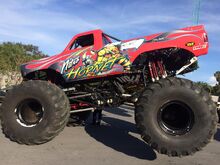 Nitro Hornet is a custom Chevy monster truck from Flame Motorsports out of Spring, Texas. The truck was originally a Chevy Silverado in 2007 for MLMT series, then returned in 2013 on a Baja body. Both versions were driven by Daron Basl, but the truck was on hold as Daron drives Monster Mutt Rottweiler for the #MoreMonsterJam tour. It did make its return, with King Krunch, in September of 2015. Its chassis has been used on Monster Mutt Rottweiler.
In 2017 an all new design, based of a 1977 chevy pickup, was unveiled in Lafyatte, LA with Aaron Basl driving.  
Gallery
Ad blocker interference detected!
Wikia is a free-to-use site that makes money from advertising. We have a modified experience for viewers using ad blockers

Wikia is not accessible if you've made further modifications. Remove the custom ad blocker rule(s) and the page will load as expected.