Natural High was a Chevrolet SSR monster truck owned by Kelvin Ramer out of Watsonville, California. The truck debuted in 2004 as Kelvin's first monster truck and Kelvin ran the truck until Time Flys debut in 2009.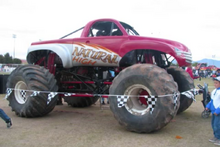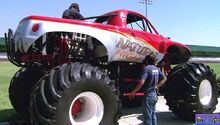 Tacoma Incident
In 2009 a piece of the driveshaft of Natural High accidentally broke off and flew into the stands, striking and killing a 6 year old boy named Sebastian Hizey at the Tacoma Dome. The fallout of this event led to colored driveshafts being mandatory, Natural High being retired, and even to a good extent of censoring Captain's Curse's crash in Vegas later that year. Samson was also involved in an accident, only 8 days later, causing much controversy in the Monster Truck industry.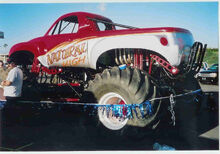 Shows continued for the next day after the incident, but Natural High was completely omitted from these shows. Later on, the chassis was converted into Fired Up.
Ad blocker interference detected!
Wikia is a free-to-use site that makes money from advertising. We have a modified experience for viewers using ad blockers

Wikia is not accessible if you've made further modifications. Remove the custom ad blocker rule(s) and the page will load as expected.