nWo was a monster truck owned and operated by PACE Motorsports (now FELD Motorsports) in the 2000 season. Tea
m Meents driver Rob Knell campaigned the Chevrolet S-10 around the circuit and appeared several times on the TNN Motor Madness series. It is likely most well-known for its racing win in New Orleans and jumpstarting the monster truck career of its spokesman, Chad Fortune. The chassis would later become the first El Toro Loco. King Krunch also ran as nWo before Monster Jam's deal with WCW as NWO (Flame).
Statistics
World Finals Appearances: 1 (2000)

Racing Result: Round One
Win/Loss Ratio: 0/1
Freestyle Finish: 3rd
Freestyle Score: 37

Master Win Total: 1 career win

6 stadium events
1 arena event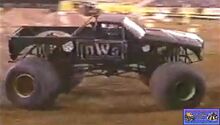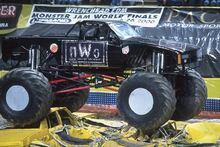 History
With several new monster trucks in the pipeline through their sponsorship, of course the WCW wanted to include their popular nWo branding in the deal.  In San Antonio's Alamodome, Rob Knell drove nWo out of the tunnel (without a helmet on) and bashed a metal bar against the top of the roll cage.  Stunts like this and constant trash talking of other competitors by wrestler Chad Fortune was all part of nWo's act, but Knell couldn't back that up over its first weekend.  However, even against Knell's cousin, Tom Meents in the new Goldberg machine, it wouldn't be long before nWo reached victory lane.  The truck weaseled its way through the New Orleans bracket and capitalised on Avenger (Jim Koehler) crashing in the other lane.  As the season wore on through Anaheim, Oklahoma City, Orlando, and Jacksonville, nWo remained tied to that single racing triumph, but it was enough for Knell to get the truck into the inaugural Monster Jam World Finals.  A Round One loss to Sting (Sky Hartley) only fueled Knell to deliver the freestyle performance of a lifetime.  The truck mastered nearly every obstacle on the track and finished with a rollover on the concrete barrier in the middle of the track.  nWo earned a 37 and ended its last night in competition tied for third with Meents's Goldberg.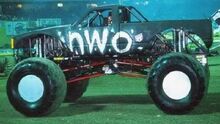 Gallery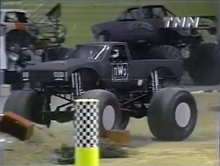 See right