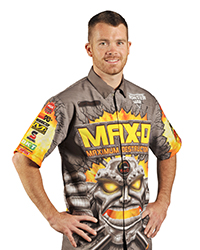 Morgan Kane is currently a driver for Grave Digger and Former Driver of Maximum Destruction. He has been driving since 2011 and won the first #MoreMonsterJam championship as well as the Monster Jam World FInals 17 racing championship.
History
In 2010 Morgan began working for Steve Sims by driving Mopar Magic. In December 2011, Monster Magic, and with it, he earned with his first big achievement defeating Ryan Anderson in Son-Uva Digger in the finals and winning his first major stadium event.
In 2012 he began piloting a second Stone Crusher, even competing in the first Young Guns Shootout.
In 2013 Morgan left Monster Trucks Ltd. and began driving for FELD Motorsports with a year behind the wheel of Iron Man before getting into Max D in 2014 to fill the spot left by Kreg Christensen.
In 2015 Morgan took place in the inaugural #MoreMonsterJam tour and winning the championship, thereby being invited to compete in his first World Finals.
In 2016, he drives Grave Digger for the West More Monster Jam tour after being traded for Colton Eichelberger and he won the West coast More Monster Jam tour.
Also in 2016, Morgan Kane wins the Monster Jam World Finals 17 Racing Championship, driving the orange livery Grave Digger.
Accomplishments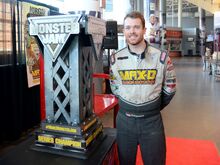 Winner of the 2015 #MoreMonsterJam tour
Winner of the 2016 West Coast #MoreMonsterJam tour
2016 - Monster Jam World Finals Racing Champion
2018 - Stadium Save of the Year award
Trivia
Morgan, despite having close ties to the Andersons as he grew up with Adam and Ryan, he started off driving Maximum Destruction until 2016, when he did switch over to Grave Digger.
Gallery