Monster Truck Madness 64

Cover for MTM 64

Released

1999

Released by

Rockstar
Monster Truck Madness 64 was a Nintendo 64 video game released in 1999 as the third game in the Monster Truck Madness series. The game features a few different modes, with the main mode being racing and features trucks that competed around 1999, when the game was released.
Game Modes
Circuit
There are three modes available- Beginner, Intermediate, and Expert. Each mode is similar, except the other 3 trucks that the player races against are harder to beat as the mode gets more difficult. Also, winning races in more difficult modes will unlock more tracks. Winning a race will require passing all checkpoints. Power ups are available for use.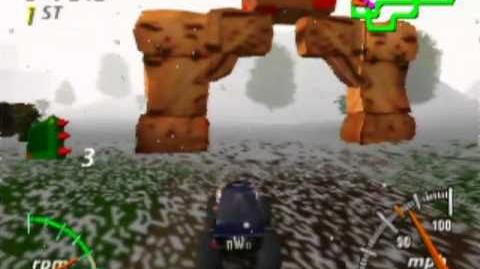 Exhibition
This mode will let you decide how many competitors you race against, what track you race on (if it's unlocked), and what weather conditions are present.
Battle Practice
Summit Rumble
Compete with up to 3 other trucks in Summit Rumble. The main goal is to stay on the NWO logo on the a platform without being knocked off by other competitors.
Chase
Play tag with up 3 other trucks on any other course. A second player is required.
Soccer
Play soccer with up to 3 other trucks on a soccer field. A second player is required.
Trucks
Tracks
Grave Yard
Ruins
Junk Yard
The Heights
Voodoo Island
Greenhill Pass
Wastelands
Unlock-able Tracks
These tracks are unlocked by winning races. More tracks are unlocked as the difficulty increases.
Aztec Valley
Alpine Challenge
Death Trap
Codes
Codes for the game can be unlocked by winning races in circuit mode. One code will let you turn all of your trucks into 'lowrider' monster trucks.
Differences with the Monster Truck Madness Games
Unlike the first two games, MTM 64 was not released for PC.
This is the only game in the series released by Rockstar; the other two were released by Microsoft.
Trucks in MTM 64 don't take damage.
This game features 19 trucks, while MTM2 has 18. This is because it features Police Truck. Rockstar added this fictitious truck as a reference to their lead game, Grand Theft Auto.
Ad blocker interference detected!
Wikia is a free-to-use site that makes money from advertising. We have a modified experience for viewers using ad blockers

Wikia is not accessible if you've made further modifications. Remove the custom ad blocker rule(s) and the page will load as expected.